Affiliates
In an effort to best serve our customers, we are proud to partner with the following quality companies:
HandyBackup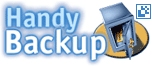 Handy Backup is an easy-to-use yet powerful backup program designed for Windows 9x/NT/2000/Me/XP. Backup to CDRW, FTP or LAN with scheduler, zip compression and encryption. HandyBackup is recommended by Pacific Computer Technologies for affordable personal backup.
Kaspersky Antivirus Personal
Kaspersky is the tool we use for removing many virus and spyware infections. We've compared it to Norton, McAfee, and others and believe that as of February 2006, this is the best choice for personal antivirus. A particularly good feature is that if you set it to use the "extended database" for scanning, it also removes most spyware and malware programs. Very nice!
AVG Antivirus from Grisoft

AVG (Advanced Virus Guard) is a solid anti-viral program. It is extremely light-weight (doesn't slow your computer down very much) and is well suited for older computers. It does a good job detecting viruses but is not as good at removal as Kaspersky. It also does not detect most spyware programs. AVG does provide a FREE version for noncommercial home use that includes regular free updates.
NovaStor backup
Professional backup at a fraction of the cost of many of the competitors. NovaStor has a reasonably nice user interface, supports a wide range of backup devices. It's reliable and cost effective for business / server situations where HandyBackup is not enough.
TypingMaster
Quality typing program with simple, clean user interface and excellent reporting. Recommended for schools.